Wildlife Monitoring
Wildlife monitoring techniques are more established for large animals that are larger, and warm-blooded, meaning they more easily trigger infra-red systems. Both cold-blooded and aquatic animals will likely not emit heat when passing by a motion detection system, further these animals are small and may not trigger passive infra-red systems. Eco-Kare is continually exploring and investigating better technologies that will optimize wildlife monitoring techniques. It is important to understand that there are a variety of camera technologies and site set-up methods that will vary for target species on a project-by-project basis that should be implemented together to optimize monitoring efforts.
Eco-Kare specializes in Best Management Techniques for road ecology monitoring.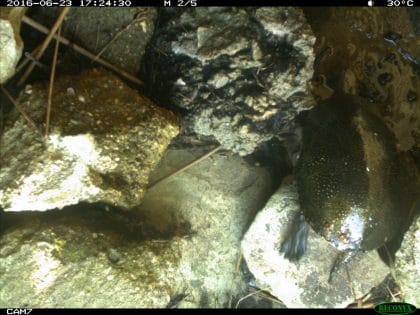 Services include:
On-site visits to assess monitoring needs and understand limitations on a site-by-site basis;
Devising monitoring plan for large (ungulates, and carnivores) and small animals (amphibians, reptiles, small mammals) that meet the objectives and budget;
Ongoing exploration of current technologies for monitoring techniques under difference conditions: drainage culvert (with and without water), wildlife underpasses of all sizes, wildlife overpasses, jump-outs, one-way gates, nesting mounds, and fence ends;
Use of in-house camera monitoring equipment that includes active and passive motion triggered activation;
Anti-theft mechanisms to ensure cameras are not stolen;
Well-established data management system to optimize data input, management and presentation.
Click below for more wildlife monitoring studies:
Highway 11 Large Animals | Highway 69 Large Animals | Highway 69 Large Animals Part 2
Drainage Culverts | Highway 69 Reptiles