Expertise
Eco-Kare is connected through
Eighteen years of qualified experience;
Peer-reviewed science, attendance and presentation at International conferences;
Database of international road ecology contacts;
In-office referenced road ecology library (56 book; 694 journal articles, 505 reports, and 34 theses);
In office geospatial library (specifically data acquisitions for Ontario, Alberta, and selected US states);
In office photo library ('tagged' by author, keywords, and relevant project).
Kari Gunson: Principal, Road Ecologist | Wes Kowbasniuk: Field Technician
Kari E. Gunson, M.Sc.
Principal, Road Ecologist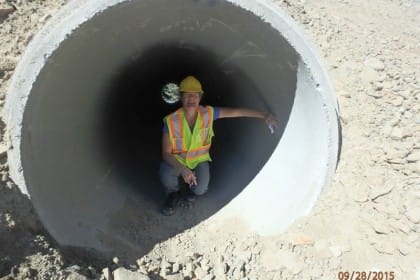 Expertise Summary
Click here to see LinkedIn profile.
Eco-Kare's principal, Kari Gunson, has worked for the past 18 years as a contract road ecologist on road mitigation projects throughout North America. Through her various projects she has provided expertise for design, placement, and monitoring of mitigation measures for a variety of large and small animal species including black bears, moose, deer, snakes, and turtles. Her work entails collecting and analysing field data, and writing up findings for road mitigation planning. Monitoring techniques include using visual surveys, motion activated digital cameras, pit-fall traps, dip-netting, and coverboards adjacent and on roads to evaluate impacts of roads on animals and other ecological processes. Kari is also a professional geospatial scientist with experience with managing, plotting, and analysing ecological monitoring data in a Geographic Information System.
A unique blend of international, biological and technical expertise from studying in three countries
B.Sc. in Zoology and Ecology from the University of Calgary
M.Sc. in Conservation Biology from the University of Cape Town
M.Sc. in Geospatial Technologies from the school of Environmental Sciences and Forestry, State University of New York
Worked eighteen years as a contract road ecologist and geospatial scientist
Six years in Banff National Park on the Trans-Canada Highway Project
Analyst for Highway 93N crossings project in Montana
Analysed spatial-temporal hotspots for moose in Vermont
Studied herpetofauna and their movements in upstate New York
Developed GIS mitigation hotspot model for herps in Ontario
Well-connected and science-based background
Presented and published at seven biannual international road ecology conferences
Presented at three northeast transportation and wildlife conferences
Presented at three European international road ecology conferences
Keynote speaker at the Toronto Zoo, and B.C. Herps and Roads Workshop
Co-founder of the Ontario Road Ecology Group
Co-author on small animal and roads guidebook (2015)
Author on fifteen peer-reviewed published manuscripts
Active peer-reviewer for international science journals
Wes Kowbasniuk
Field Technician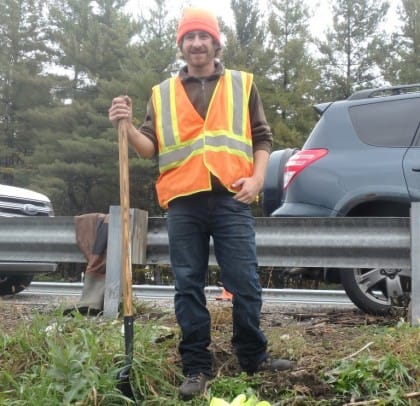 Expertise Summary
Wes is a professional wildlife technician with three diplomas in Environmental Impact Assessment, Fish and Wildlife, and Environmental Monitoring completed at Cambrian College in Sudbury, Ontario and Fleming College in Peterborough, Ontario. Wes has been based out of Sudbury, Ontario working with Eco-Kare for 3 years as a crew leader for all field work done in the MTO Northeastern Region. His work has primarily included field data collection using wildlife snowtracking, scat and hairsnagging, and remote camera survey techniques. Wildlife data collection entailed identifying and interpreting data to understand wildlife interactions with new road wildlife mitigation measures. Wes is in charge of all data entry and compilations for ongoing progress reports. Wes manages, fixes and troubleshoots all monitoring equipment and wildlife fencing installations. In addition, Wes conducts road mortality surveys for turtles and large animals on Highways in Northeastern and Eastern Ontario.
In addition to his work with Eco-Kare, Wes works with undergraduate and graduate students at Laurentian University to collar and radio-track elk to obtain data for spatial analysis and to examine different aspects of reintroduced elk ecology and diversionary feeding of black bears and wolves. His skill set includes  installation and maintenance of game cameras, collection of carnivore hair sample for genetics, ungulate abundance surveys, identifying species by sign (tracks, scat, hair samples) and telemetry radio-tracking.
Education
Environmental Monitoring and Impact Assessment Diploma from Cambrian College (2013)
Environmental Technician Diploma from Sir Sandford Fleming School of Environmental & Natural Resource Science (2011)
Fish and Wildlife Technician Diploma from Sir Sandford Fleming School of Environmental & Natural Resource Science (2009)
Work with Eco-Kare International
Lead role in fence installations and maintenance
Siting, positioning and troubleshooting motion activated infra-red camera data collections
Worked with four models of cameras including Bushnell, UWAY, Reconyx, and active beam triggered cameras
Lead role in data collection, entry and processing for progress report summaries