Our latest projects and achievements in the fields of road ecology and green infrastructure
Contributions | Monitoring | Planning | Innovation | Awards | About Eco-Kare
Contributions
Email (sorry, you need Javascript to see this e-mail address) for an English and French version of the paper titled: 'A comparison of turtle and snake passage at drainage culverts along two major highways in North America' by Kari E. Gunson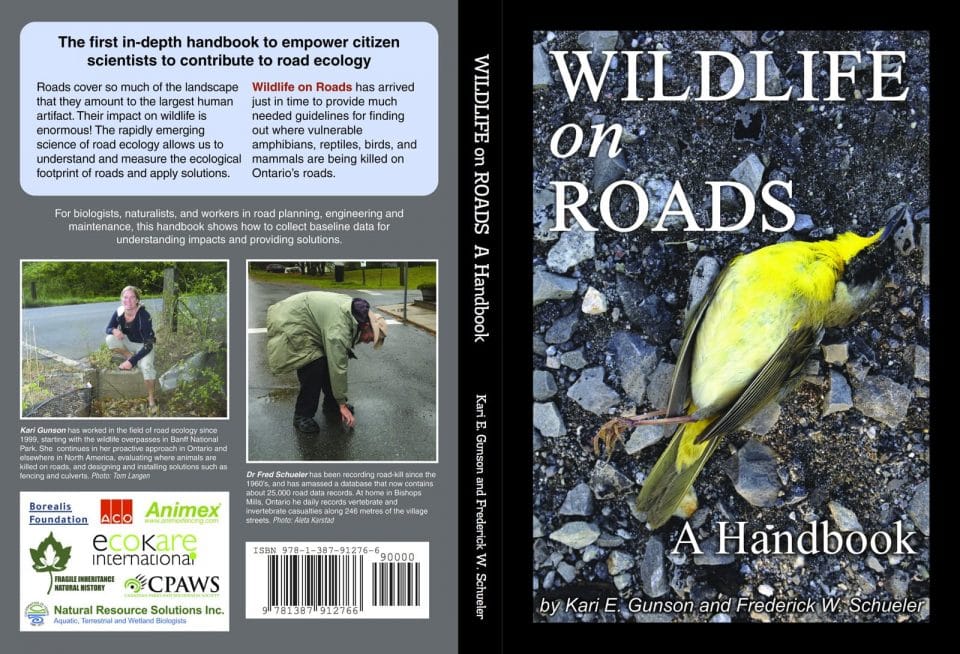 A must have for professionals, road maintenance personnel, and citizen scientists
Planned on-line launch date for Wildlife On Roads (second edition) is January 2019
Bookmark this page or see Eco-Kare on Facebook for regular updates
The Wildlife On Roads observation page is now live — take part!
A literature review piece outlining the impacts of roads on amphibians, turtles, squamates, mammals and birds with tips for collecting on-road information
Followed by species essays of diagnostic features relevant to road-killed animals as well as information as to why specific species may be found alive or dead on roads
A concluding chapter on citizen science data collection and management, with details on collecting location and photo information for upload into on-line databases such as inaturalist
11 relevant case studies on on-road citizen science projects and mitigation solutions in Ontario
117 photos relevant to key diagnostic features of species and for illustration of species as observed on roads, and 12 black and white illustrations comparing and contrasting key diagnostic features by species and taxa
A customized data sheet with fields for citizen science on-road data collection along with link to an iNaturalist database for upload of observations in Ontario
Field and on-line resources section for each relevant taxa
142 references sorted with each relevant taxa
5 page glossary of terms relevant to citizen science data collection
Index of species with provincial (Ontario) and federal (Canada) conservation status
Recent books and Best Management Practices:
'Handbook of Road Ecology' edited by R. van der Ree, D. J. Smith, and C. Grilo featuring:

Gunson, K. E., and F. Z. Teixeira: Identifying the patterns and processes of wildlife road interactions are important to inform road-wildlife mitigation planning.

'Roads and Ecological Infrastructure' edited by K. M. Andrews, P. Nanjappa, and S.P.D. Riley featuring:

Case studies from Southern Ontario: Highway 24 Blanding's Turtle study, Peel Municipality Amphibian and Reptile Hotspot analysis and Long Point Causeway.

Two Best Management Practice Guideline documents for the Ministry of Natural Resources and Forestry (see below to download a copy) and the Ministry of Transportation (see below to download a copy)
Contributions | Monitoring | Planning | Innovation | Awards
Monitoring
Eco-Kare's most recent monitoring reports are listed here. Including recently published work from the Valentine Wildlife Refuge, Nebraska with the worlds largest population of Blanding's Turtles. See below for an overview of content and to download a copy.
Field methods used pit-fall traps to capture turtles and mark. Then cameras in culverts to measure a connectivity index
First time ever formally documented use of eight Blanding's Turtles using existing smaller drainage culverts along a major highway
Recommendations to extend and improve the existing chain-link fencing and to integrate additional turtle crossings
A comprehensive compilation (139 pages) of mitigation effectiveness for large- to mid-sized animals
Mitigation comparison on 4 mitigated section on two highways: Highway 69 (mitigation implemented during road expansion from 2 to 4 lanes), and Highway 11 (mitigation implemented after road expansion)
Before-After-Control Impact designs using snow-tracking, carcass and wildlife-vehicle collision reporting from the Ontario Provincial Police to measure fencing effectiveness
Hotspot maps using Siriema software
Picture library with over 100 photos
Bulleted easy to read summarized methods, results and conclusions (59 pages) for five years of monitoring for large- and mid-sized animals on Highway 69
Evaluation of effectiveness of overpass, creek bridge pathways, box culverts, jump-outs and one-way gates
Best animal pictures captured on cameras, including Drone pictures of overpass also available in videos on website
Statistical analysis that evaluates observed and expected use of overpass and underpass by species
A comprehensive compilation of mitigation effectiveness for reptiles including the rare Blanding's turtle
Best animal pictures captured on cameras from two years monitoring also available in videos on website
Camera set-up and evaluation for reptiles (cold-blooded animals)
Statistical analysis and discussions that build on work conducted by Baxter-Gilbert et al. 2015
Eco-Kare worked with MTO Head Office (Brenda Carruthers) to evaluate the use of a new Wildlife Habitat Awareness (WHA) sign policy, evaluation was positive, and the policy has been approved with recommendations for implementation on provincial highways.
Features four years of monitoring effectiveness of Wildlife Habitat Awareness Signs (WHA) on highways in Southern and Northeastern Ontario;
Includes traffic speed studies, road surveying and in-person motorist surveys
Before-After-Control-Impact study designs for traffic speed and road survey evaluation
Two types of sign evaluation: turtles and snakes
Contributions | Monitoring | Planning | Innovation | Awards
Planning
Development of province-wide, GIS-based, mitigation planning tools that prioritize where mitigation is most needed for Blanding's Turtles and large animals on the MTO provincial road network as part of the MTO Wildlife Mitigation Program Analysis and Tools (WMPAT): Click here to see maps
Worked with a team of researchers for prioritizing mitigation measures on US highways in Idaho and South Dakota
Development of a draft municipal road ecology planning document for the City of Oakville (to be integrated into their Biodiversity Plan)
Watershed planning to prioritize mitigation for turtles in the Raisin Region Conservation Watershed, for Snapping Turtles and Jefferson Salamanders in Region Halton, and amphibians in Peel Municipality
Contributions | Monitoring | Planning | Innovation | Awards
Innovation
Design and implementation of a 3-5 year temporary fence design for the Ministry of Transportation (see example video)
Exploring and testing different camera technologies and set-ups for monitoring amphibians and reptiles
Design and implementation of beaver exclusion-turtle passage systems at drainage culverts (see example video)
Contributions | Monitoring | Planning | Innovation | Awards
Awards