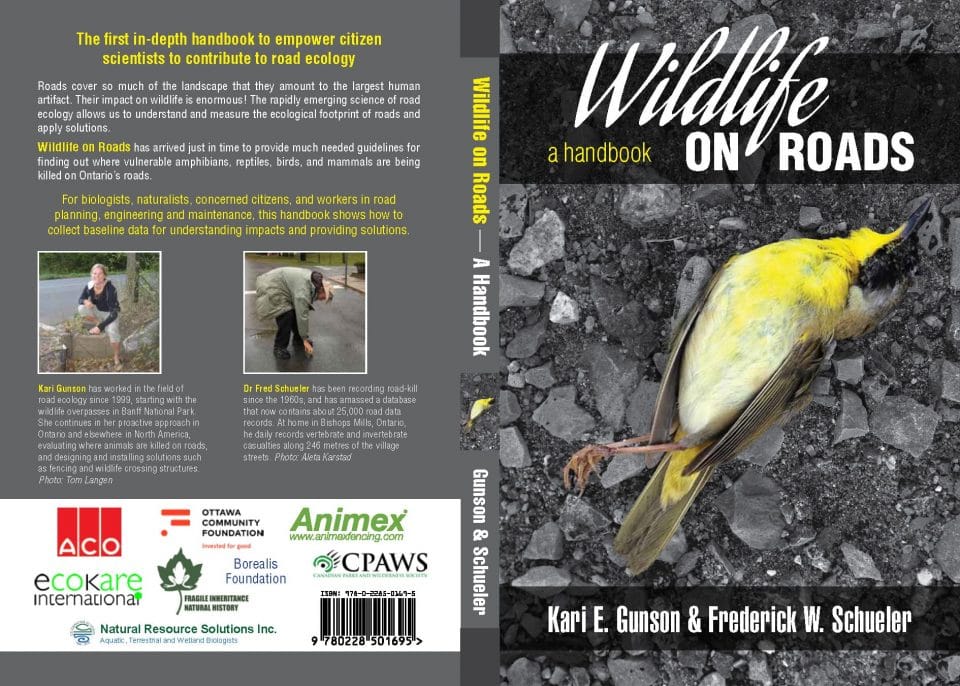 A must have for students, professionals, road maintenance personnel, and citizen scientists interested in road ecology
Bookmark this page or see Wildlife on Roads on Facebook for regular updates
The Wildlife On Roads Observation Repository is now live — take part!
Eco-Kare would like to thank our sponsors, illustrator and designers, our printer First Choice Books, and our reviewers and photographers
PRE-ORDER
Follow this link to our on-line store to purchase a full-colour book (80# silk paper; ~130 colour photos)
Cost is $29.95 CAD (~$22.62 US) per book; contact us directly for 5 or more books with a 10% discount.
Mail-outs will then be completed during the first week in March.
You will have your book in-time for the upcoming field season!
OVERVIEW
A literature review piece outlining the impacts of roads on amphibians, turtles, squamates, mammals and birds with tips for collecting on-road information
Followed by species essays of diagnostic features relevant to road-killed animals as well as information as to why specific species may be found alive or dead-on-roads
A concluding chapter on citizen science data collection and management, with details on collecting location and photo information for upload into on-line databases such as iNaturalist
12 relevant case studies on on-road citizen science projects and mitigation solutions in Ontario
160 photos relevant to key diagnostic features of species and/or to illustrate animals as observed on roads, and 12 black and white illustrations comparing and contrasting key diagnostic features by species and taxa
A customized data sheet with fields for citizen science on-road data collection along with link to an iNaturalist database for upload of observations in Ontario
Field and on-line resource section for each relevant taxa
142 references sorted by each relevant taxa
5 page glossary of terms relevant to wildlife on roads data collection
Index of species with provincial (Ontario) and federal (Canada) conservation status
SAMPLE PAGES — click for full size